He said to them, "Let the little children come to me, and do not hinder them, for the kingdom of God belongs to such as these." ~Mark 10:14
Saint Mark Kid's Ministry Mission: to Create an authentic life-changing relationship with Jesus, through partnering with parents and providing an appropriate environment for each age group. But that's just the beginning!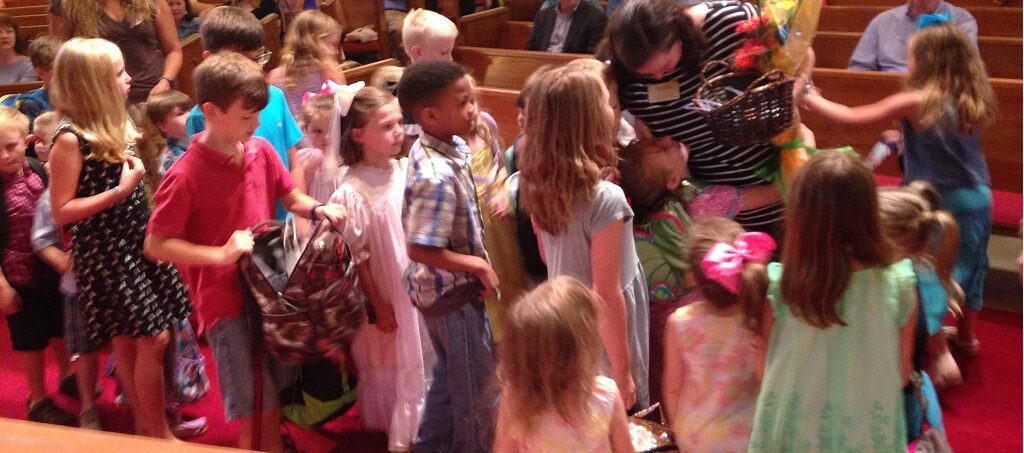 Here at St. Mark, we strive to involve the entire family in worship and celebration of God. Your children will be constantly surrounded by love and hospitality. The Kid's Ministry has an ongoing commitment to you and your family, to bring an exciting, fun, biblically-based curriculum not only to Sunday School, but to Children's Church as well.
Sunday School
On Sunday mornings, children from 3K to 6th grade are invited to attend Sunday School at 9:45 AM, where they will experience loving teachers who will lead them on an adventure through the Bible using bible stories, music and games. In Sunday school, we employ the Orange Curriculum (thinkorange.com) to ensure that the kids are following a structured lesson plan to reinforce what they're learning as they grow in the Church!
Children's Church
During the 9 AM and 11 AM Worship services, children from 3K to 3rd grade can participate in Children's Church. The children will come to the front of the church to hear a short bible story, closed with a prayer, and then will be escorted by adults to their classrooms, where they will experience bible lessons, songs, craft, and games! After Church, parents can find their children downstairs in class or, on sunnier days, maybe out on the playground!
During church services and Sunday School, a nursery is provided for infants to 2 years old. Nursery is also provided on Wednesday nights.
Wonderful Wednesdays
During the school year, Wonderful Wednesdays are available for children of all ages! This is a time of fellowship, of singing and playing and glorifying God!
We begin in the Gym at 5:45 PM for 15 minutes of free time with our friends. Children are then escorted by an adult to their individual Choir rooms. Choir runs from 6:00 PM to 6:20 PM. Afterward, the kids begin worship arts time, where they can choose from Drum Circle, Guitar Lessons, Art Class, Dance Class and more!
After worship arts the kids are escorted into their individual age groups for a bible lesson, craft and games!
Wonderful Wednesdays end for all age groups at 7:30 PM. If you're curious about what you're going to do with all of your free time that night, head over to our Wonderful Wednesdays page to see what we have planned for the adults!
For more, check out the Kids Ministry on its own Facebook page here!