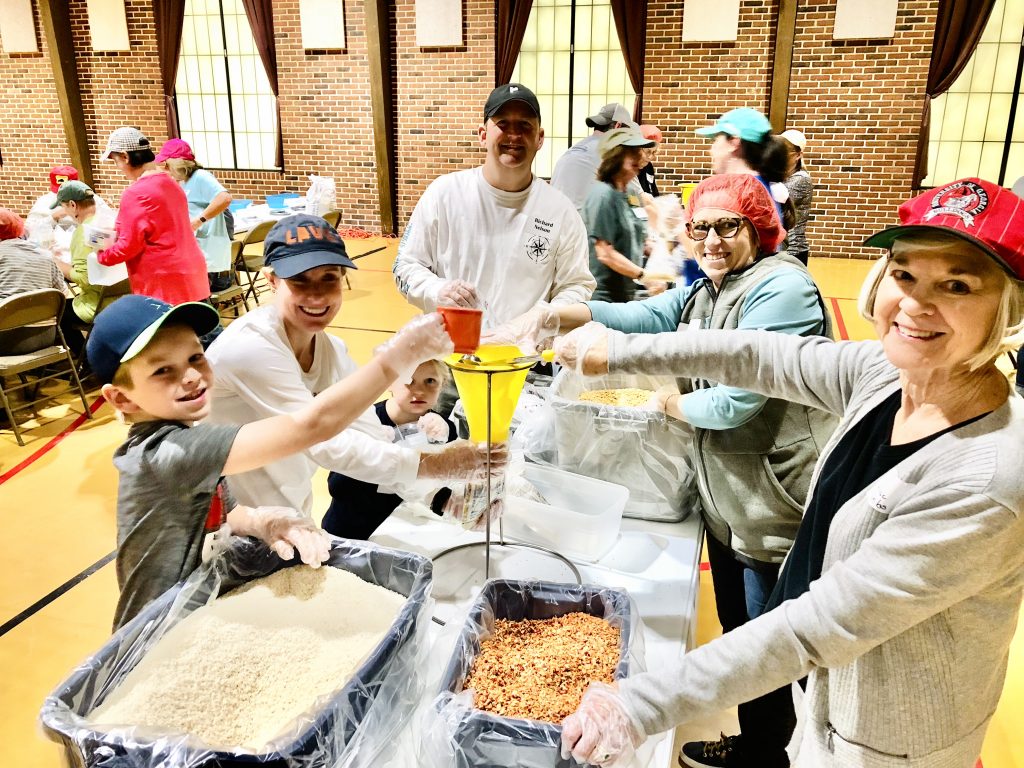 We demonstrate that "Love Lives Here" through our prayerful acts of service. Our local and international outreach efforts help reveal the love of Jesus. If you want to experience the joy of making a difference in the lives of others, click the link below.
Active Saint Mark Outreach

Thursday's Food Mission provides approximately 100 lunches each week to Highlands United Methodist Church for distribution to anyone in Birmingham who is hungry. The lunch includes a bologna and cheese sandwich, a boxed drink, a boiled egg, a small bag of chips and a candy bar. Each Wednesday, Saint Mark UMC members shop for supplies, boil at least 8 dozen eggs in the church's kitchen, and arrive Thursday morning to make sandwiches. Team members deliver the lunches to Highlands UMC on Thursday for distribution on Friday.
Food for Our Journey, Urban Ministries and Brother Bryan are organizations that collect bread and pastries from grocery stores for distribution to the Birmingham homeless community. Food for Our Journey, who he meets at Highlands UMC on Thursdays. Items that Food for Our Journey does not accept go to Brother Bryan on Thursday mornings.
Saint Mark Donations Programs collect coats, socks, gloves, toiletries and other supplies on an ongoing basis. Plastic bins are located under the church porte cochere for collections. These items are transported to a variety of assistance ministries in our area.

The Prayer Shawl Ministry uses their knitting skills to make prayer shawls for people who are ill or are experiencing difficult situations. Additional projects include hats and scarfs for the homeless and scarfs in school colors for seniors who are headed to college. Prayer shawls are distributed by the church staff and church members during visitations. Meetings take place on the 1st and 3rd Fridays of each month. Sally McClanahan coordinates the group and welcomes you to join. Her number is 205-587-9279.

The Pastor's Benevolence Fund includes funds donated at the altar while receiving communion as well as designated donations.  These funds are used to provide direct assistance to members of our community for utility bills and other financial needs.  Due to the growth of the ministry, we now partner with Daniel Cason Ministries to take advantage of their expertise in handling  the administrative details of screening applicants to assist those who are genuinely in need.  Some benevolence funds are kept on hand for miscellaneous needs as they arise.
WOW Ministries strives to bring comfort to our congregation in the highs and lows of life. We rely on referrals to know when members and/or visitors could use a little extra love in their lives. Samples of projects include care packages to teachers returning to the classroom during the pandemic and "Hugs in a Bag" for people without internet access to connect to online church services. Please contact Deanna Ryan for more information.
The Nurture Committee provides meals for memorial and funeral services and delivers gifts to homebound church members during holidays or other special occasions. Committee members maintain close relationships with homebound members to nurture them throughout the year. Please email us if you are interested in helping with congregational care.
Saint Mark Students have served as key members of disaster relief, participating hands on with cleanup and repair jobs as well as packing flood buckets and hygiene kits to be shipped to needy areas. Saint Mark Students serve a monthly meal to the Firehouse Shelter for men in the Birmingham area who are homeless. During the pandemic they have been preparing this meal on Sunday night in the church kitchen and packing it in boxes to deliver to Firehouse.
Saint Mark Godspeed Choir takes part in an annual mission trip to spread Christ's love by preforming at nursing homes and churches in under-served areas and conducting Vacation Bible School for churches who are not able to do so.
First Saturday Serve Saint Mark students hold various monthly mission projects including yard work, building maintenance for disadvantages churches, valentine distribution to the homebound and Christmas Caroling. The youth conduct a number of fund raisers to support their missions such as Souper Bowl Soup Sales, Pancake Breakfast and a Spaghetti Dinner with an Auction. Email us for more information.
United Women of Faith (Formerly Known as UMW) provide generous support primarily to local non-profit entities and Saint Mark Church missions.  This support is funded by the Holiday Market, pecan sales and donations from the members.  Contact  Joan Purse 205-987-7373.
Saint Mark Men's Club holds two fund raisers each year, the Springtime Shrimp Boil and the Labor Day B-B-Que.  The proceeds are used to support needs inside and outside the church such as Church of the Reconciler, International Missions, UMCOR disaster relief, Wreaths Across America, Angel Tree, Easter Sunrise Breakfast and VBS.  The Men's Club meets every 3rd Sunday for breakfast at 8:30 am.  Email us for more information.