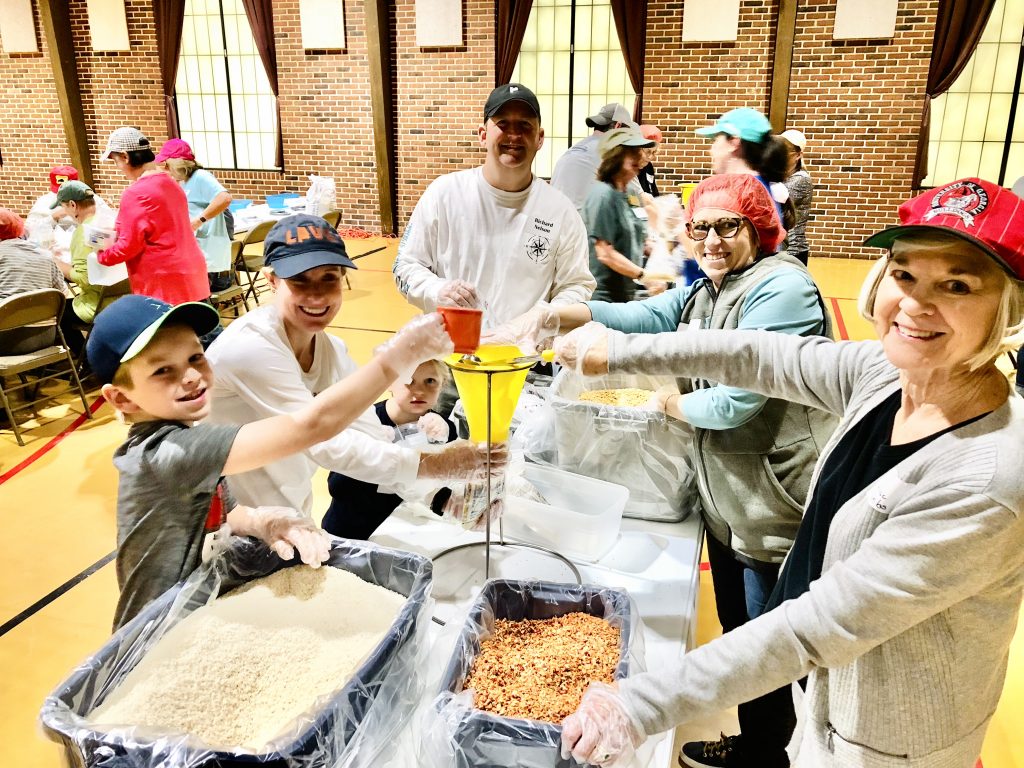 We demonstrate that "Love Lives Here" through our prayerful acts of care. Our local and international mission efforts help reveal the love of Jesus. If you want to experience the joy of making a difference in the lives of others, click the link below.
Active Saint Mark Missions
The Mexico Mission Project Team, led by John Gaston, builds homes in the outlying communities of Rio Bravo, Mexico. These homes are usually small concrete structures without electricity or plumbing. In addition they conduct bible studies and build Christian relationships. Over the years John's team has participated in building 40-50 homes. Since Covid restrictions prohibit them from traveling, they have donated funds toward Rio Bravo building projects. John's primary contact is Socorro Salas of the CERCA organization.
Future plans include a Mexico trip in March with the goal of securing contacts and facilitating educational scholarships for needy children or adults. John will also be following up with families living in the homes, cementing existing relationships, and fostering new ones in the area.
John also leads an annual church Garage Sale to support the Mexico and Russian Missions. By networking with a local West End Church, John has secured storage space for his garage sale items and conducted badly needed repairs to the church building. Contact John Gaston at 205-907-5648
The Russian Orphanage Mission began by supporting an orphanage in a rural area outside Moscow. St. Mark members donated essential materials and supplies and visited the orphans via Skype sessions as well as annual in-person visits. Currently funds are donated to Russian Ministry Centers to assist former orphans with job training, life skills and counseling.
The Peru Mission began through coordination with the Reimagine Ministry in Pensacola. Church members participated in building wooden prefab houses, conducting bible studies, and donating food and supplies for underserved communities.
In past years a portion of the funds to support these missions has come from the Garage Sale and the Pumpkin Patch Sale. Debbie and Gordon Morris are coordinators for these missions. Contact Gordon Morris at 205-790-1500.
Thursday's Homeless Run provides approximately 100 lunches each week to Highlands United Methodist Church for distribution to the homeless community in Birmingham. The lunch includes a bologna and cheese sandwich, a boxed drink, a boiled egg, a small bag of chips and a candy bar. Each Wednesday Dennis Jones shops for food at Walmart and Sam's and boils 8 dozen eggs in the church's kitchen. Church volunteers arrive Thursday morning to make the sandwiches. Dennis delivers the lunches to Highlands UMC on Thursday for distribution on Friday.
Food for Our Journey, Urban Ministries and Brother Bryan are organizations that collect day old bread and pastries from grocery stores for distribution to the Birmingham homeless community. Ruth Ann Poynter picks up donations from the Alabaster Publix on Wednesdays, brings the donations to the church on Thursdays and Dennis Jones delivers them to Food for Our Journey, who he meets at Highlands UMC on Thursdays. Items that Food for Our Journey does not accept go to Brother Bryans on Thursday mornings also. Debbie Morris picks up donations from the Publix on 150 on Thursday evenings. Urban Ministries meets Debbie at Saint Mark UMC on Friday mornings to collect the food.  Contact Dennis Jones at 205-910-4324
Saint Mark Donations Programs collect coats, socks, gloves, toiletries and other supplies on an ongoing basis. Plastic bins are located under the church porte cochere for collections. Dennis Jones transports donations to Highlands UMC or Brother Bryans or Urban Ministries on Thursdays.  Anne Cassell Watkins picks up and delivers supplies to the Lovelady Ministry.

The purpose of Helping Hands is to assist church members with any short term need they may have. Requests for assistance usually come through the church staff, but could originate from any church member. Volunteers are church wide and self-funded.
Examples of assistance include transportation to church activities or medical visits, Wednesday night meal deliveries to shut-ins, minor assistance with home maintenance, requests for food or material donations and assistance with other projects in the church as requested.
During the pandemic Helping Hands has used their volunteer resources to help other church missions and/or Sunday School  projects; i.e., WOW Ministries, Soup for Super Bowl and the Lovelady Project.  Linda Crain is the coordinator for Helping Hands.  Contact Linda Crain at 205-980-8698

Respite Care provides caregiver services for families of children with disabilities or terminal illness and their siblings. It takes place on the first Friday of the month, at the church facility, seven or eight months a year, for a 3-4 hour period. The staff is comprised of church volunteers, often including professional teachers and young people, but always including medical personnel. Care includes structured activities such as snack time and craft time as well as physical activities in the gym. Judy Weismann provides a meal for the staff prior to the 6:00pm start time.
Bill Keene is the Respite Care coordinator and is assisted by two teams led by (1) Judy Weisman and Laura and Tim Allen and (2) Lisa White. Background checks are required for all volunteers. Respite Care is publicized through contacts with special education teachers and rehabilitation centers. Contact Bill Keene at 205-461-4676
The Prayer Shawl Ministry uses their knitting skills to make prayer shawls for church members who are ill or are experiencing difficult situations.  Additional projects include hats and scarfs for the homeless and scarfs in school colors for seniors who are headed to college.  Prayer shawls are distributed by the church staff during visits or by church members. Meetings take place on the 1st and 3rd Fridays of each month.  Sally McClanahan coordinates the group and welcomes you to join.  Her number is 205-587-9279.
The Lovelady Center is a temporary home for more than 300 women and children who are in transition, often from a prison environment.  They provide education, job skills, counseling, and training in a Christian environment to assist women in becoming productive citizens.  St. Mark supports their efforts by donating services and collecting supplies to meet their varying needs, such as hygiene supplies, over the counter medications, office supplies, etc.  Email us for more information.
MEAL BAG PROJECT

The Good News Sunday School class and the Saint Mark congregation have completed a large meal bag project in 2020. The project delivered over 1200 meal bags or almost 11,000 meals and just under 8 ½ tons of food. The primary recipient of the meals was the Daniel Cason "I Cared Enough" mission project. Meals were also provided to the following: Faith Apostolic Church, Birmingham; Black Oak Missionary Baptist Church, Okolona, MS; Pinson Church of God of the Prophecy, Pinson, AL; Woodlawn Baptist Church, Browns, AL, the New Nazareth Baptist Church, Birmingham, as well as the Matt Miller Food Pantry in Millpond, Al.
The Good News Sunday School class plans to provide roughly 150 meals each month throughout 2021.  We will be supporting some of the same ministries as in 2020 and will be looking for other ministries throughout the year.  If you want to be part of the 2021 effort just send a check to the Finance Office with Good News on the subject line or contact Gary Reed at 205-613-1190.
The Pastor's Benevolence Fund includes funds donated at the altar while receiving communion as well as designated donations.  These funds are used to provide direct assistance to members of our community for utility bills and other financial needs.  In the past the requests for assistance have been reviewed by a committee of church volunteers. Due to the growth of the ministry, we now partner with Daniel Cason Ministries to take advantage of their expertise in handling  the administrative details of screening applicants to assist those who are genuinely in need.  Some benevolence funds are kept on hand for miscellaneous needs as they arise.
WOW Ministries strives to bring comfort to our congregation in the highs and lows of life.  We rely on referrals to know when members and/or visitors could use a little extra love in their lives.  Samples of projects include care packages to teachers returning to the classroom during the pandemic and "Hugs in a Bag" for people without internet access to connect to online church services.  Please contact Deanna Ryan for more information.
The Nurture Committee provides meals for memorial and funeral services and delivers gifts to homebound church members during holidays or other special occasions.  Committee members pair one on one with a homebound member to nurture them throughout the year.  Please email us if you are interested in helping with congregational care.
In previous years Disaster Relief has been a vibrant ministry at St. Mark. Our church members have completed training programs held by UMCOR (United Methodist Committee on Relief) in preparation to address emerging and ongoing issues related to disaster relief and recovery. In addition the church has a disaster relief trailer equipped with tools and safety attire.
Saint Mark Students have served as key members of disaster relief, participating hands on with cleanup and repair jobs as well as packing flood buckets and hygiene kits to be shipped to needy areas.
In past years disaster relief teams have provided substantial support to hurricane victims in Louisiana, Mississippi, Tuscaloosa, Gardendale and more recently Fultondale. Currently there is no official coordinator for disaster relief and no organized program. Any disaster relief currently provided is by individuals who respond to a church wide call.
Saint Mark Students serve a monthly meal to the Firehouse Shelter for men in the Birmingham area who are homeless.  During the pandemic they have been preparing this meal on Sunday night in the church kitchen and packing it in boxes to deliver to Firehouse.  
The Saint Mark Godspeed Choir takes part in an annual mission trip to spread Christ's love by preforming at nursing homes and churches in under-served areas and conducting Vacation Bible School for churches who are not able to do so.
In addition, the Saint Mark students hold various monthly mission projects including yard work, building maintenance for disadvantages churches, valentine distribution to the homebound and Christmas Caroling. The youth conduct a number of fund raisers to support their missions such as Souper Bowl Soup Sales, Pancake Breakfast and a Spaghetti Dinner with an Auction. Email for more information.
The United Women of Faith (Formerly Known as UMW) provide generous support primarily to local non-profit entities and Saint Mark Church missions.  This support is funded by the Holiday Market, pecan sales and donations from the members.  Contact  Joan Purse 205-987-7373.
The Saint Mark Men's Club holds two fund raisers each year, the Springtime Shrimp Boil and the Labor Day B-B-Que.  The proceeds are used to support needs inside and outside the church such as Church of the Reconciler, International Missions, UMCOR disaster relief, Wreaths Across America, Angel Tree, Easter Sunrise Breakfast and VBS.  The Men's Club meets every 3rd Sunday for breakfast at 8:30 am.  Email us for more information.
The primary mission of the Aldersgate SS Class is the Methodist Children's Home. In addition they donate to other church projects such as Daniel Cason's "I Cared Enough".
The Trinity SS Class participates in the Meal Bag Project, Angel Tree and donations to The Church of the Reconciler food mission among other missions.
The Seekers SS Class is currently supporting a young lady who has adopted her three younger siblings. They also contribute to various church missions such as Angel Tree. Contact Joan Purse at .253-2549.