So then, just as you received Christ Jesus as Lord, continue to live your lives in him, rooted and built up in him, strengthened in the faith as you were taught, and overflowing with thankfulness.
~ Colossians 2:6-7
A survey of Saint Mark's student ministry will reveal teenagers from a dozen different Birmingham area schools. A variety of teenagers who excel in athletics, academic, gaming, or music; and even some who are still trying to find where they fit in. Such a diverse community of teens could be considered an anomaly, but I attribute it to our youth ministry inheriting our church's culture: "Love Lives Here." Our youth ministry strives to be the necessary place in a teenager's life where they can find the acceptance, love, encouragement, and accountability he or she craves and needs from their fellow youth and our awesome team of adult counselors. Through our worship, small groups, service, and fellowship we strive to create a culture where young people are encouraged to live into their calling in Christ as agents of the kingdom within the household of God.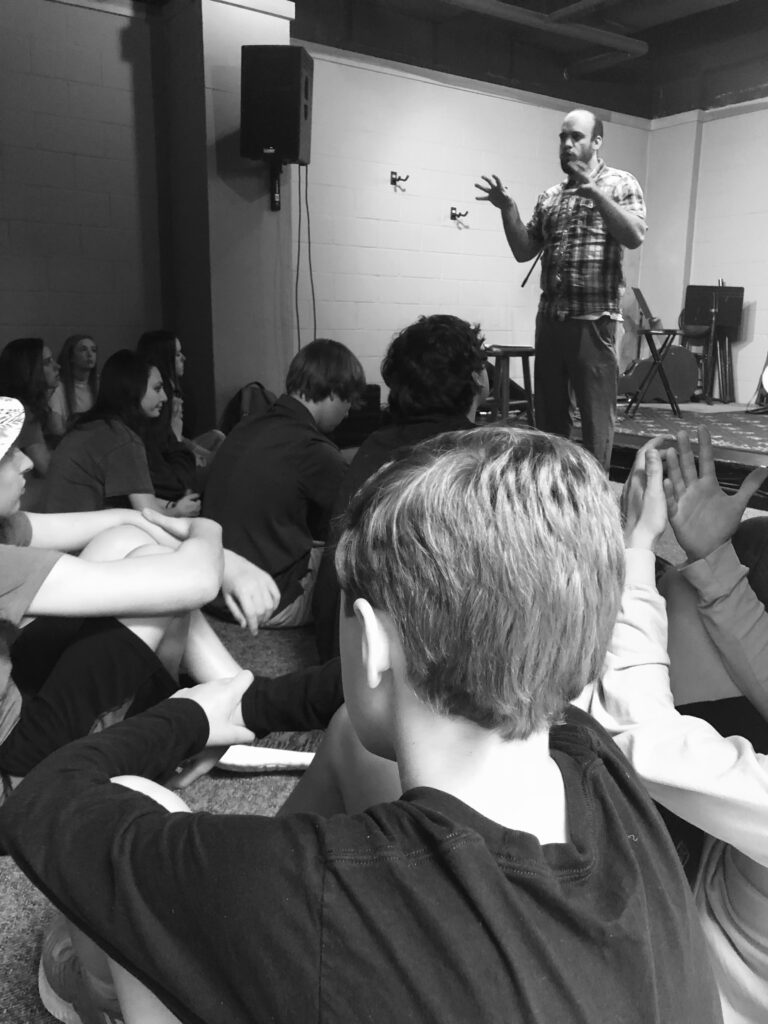 What is the Youth?
The Youth is a group of young men and women from 7th to 12th grades who gather together in fellowship to grow and to bond together through Jesus Christ Our Lord. Young adults are faced with new, more diverse challenges every day and through this youth ministry they have a loving place to express themselves and to be close to God. We love our Youth, we invest in them throughout the church and we are excited to watch them grow throughout the years at St. Mark. And we hope that you will join us on this amazing journey!

Youth Center
We can't talk about our Youth without mentioning their own Youth Center. What a blessing it has been that the Youth have their own space, their own game room and music room, their own classrooms where they can go to worship, to sing or just to be themselves. Nearly all of their activities are set in the Youth Center. This is where they come for the youth sermon, for their small groups and for singing with the praise band. Just check out this space!
Schedule of Activities
While the Church has scheduled activities for members of all ages, the Student Ministry has a schedule all its own that runs alongside the normal church activities.

Wonderful Wednesdays offers youth programming for students in 6th through 12th grade. On Wednesday Nights, we provide a Middle School Ministry. At 6:00pm our youth center opens up for our 7th and 8th grade students, while our 6th graders remain in children's choir rehearsal. At 6:30, our 6th graders meet us in the youth center where we begin a Bible lesson structured for middle schoolers.
Our High Schoolers have a couple of options for Wednesday night studies. Other High Schoolers choose to help in our children's ministry or join one of our great adult Wonderful Wednesday classes. Please note that Wonderful Wednesdays only run through the school year. Find more information here.
Sundays also have their own schedule for the Youth. On Sunday Mornings, the youth enjoy their own Sunday School classes in the Youth Center from 10:00 AM to 10:45 AM, before they join the rest of the congregation. But Sunday nights are really when the youth come alive! Sunday pm youth begins at 4:30, they will follow the Youth Choir Director to the choir room to practice singing in our own youth choir – Godspeed! Godspeed rehearsal ends in time for our 5:30 PM, Snack Supper in the Fellowship Hall, followed by fellowship and games in the Gym. Around 6:00 PM, they will head down to the Youth Center to hear a message and worship together in the Youth Worship Room. After that, they will break into small groups to discuss what they are facing today in their own lives and how it relates to the message that evening. We wrap up youth activities at 7:00.
Extracurriculars
As with any youth program, you can expect that there will be extracurricular activities for the students to become involved in – and St. Mark's Student Ministry is no different! We are proud to offer our youth a developing suite of programs to choose from, including: Youth Basketball, Youth Praise Band, Choir, Leadership Team and Outreach.